Franz Lindenmayr / Mensch und Höhle
First International Meeting of Cave Photographers - Olargues 2011 - France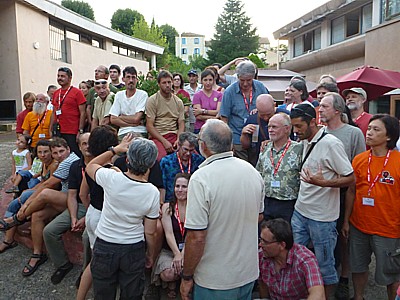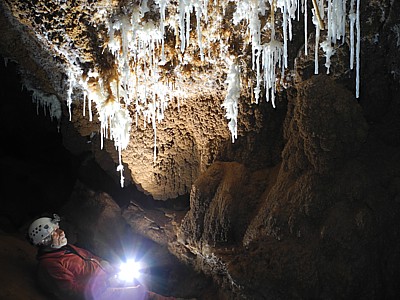 ---
Were we actors and are therefore now witnesses of an event that will go down in "history"'? Was it the go-ahead for a new level of cooperation and of the coming together of cave photographers in a worldwide scale? Was this a unique event that goes down in the history of cave photography as something that was set so high that it could not find a successor? Or will it go on? First proposals and ideas already were conceived, Sardinia, Cantabria, Yorkshire - all perfectly suitable areas that are so attractive that it would be worth a trip halfway around the world - but that is not everything. There must be also capable, dedicated and enthusiastic organizers and volunteers in addition to suitable premises and a lot of skills and luck in the running of the event.
This was the case this time. With Philippe Crochet the whole event had a brilliant focal point, with Annie Guiraud, his partner, the congenial complement. They got the idea , after 2002, when they came from Montpellier to our German HÖPHOs at the Römersteinhaus on the Swabian Alb for a weekend. They liked very much the relaxed atmosphere and the preferred general principle of cooperation in contrast to the otherwise so much highlighted competition in our societies, which dominates the cave photography competitions in France and everywhere else.
Meanwhile, photographer Michel Renda and his wife Majorie, used to travelling and meeting cavers from all over the world as well, had had the same idea. The basic principle is to bring cave photographers from around the world together for a few days so that they could get to know each other and exchange what they know and do. The thing was, to find an attractive region, which has enough appeal to justify even to travel halfway round the world. With the Haut-Languedoc they found an area that was very suitable, because there are a lot of caves, which are extremely attractive, but normally difficult or not at all accessible for normal cavers. For this event an exception was made, the iron gates opened, sometimes for only a single tour, sometimes for several trips. The range of possible caving trips was huge: from relatively easy trips to ones for only the very slim and very experienced SRT specialists, always guided by at least one leader for a group from 4 to 10 persons.
It is also important to win as many partners as possible for such an event. Daniel Chailloux completed the organizers team and other people, like Paul Redon, Jean-Marie Chauvet, Bernard Hof, Christophe Tcherter provided help. They all "tore a leg", as one participant commented, correctly, to allow the event to become such a big success.
The first moments were probably the hardest. As you try to initiate something completely new you must be brave because you have no idea whether there will be any resonance or not. You have to talk to people, negatiate, develop something - and then maybe only 5 people from the near vicinity will sign up. Two years before the planned meeting Phillip and Annie had already begun to send out the first invitations and were waiting for a reply. And then the surprise: 39 people from around the world came forward and expressed an interest (in fact there were in the end nearly 80 people who took part - some only for one or two days). The conditions were really ideal and inexpensive. It cost just 60 euros, if you inscribed from Sunday evening through to the next Sunday morning. Breakfast and diner were included in the price. The ones who wanted to stay in the camp hotel where the event mainly took place had to pay 100 € accommodation fees extra, but you could also stay for example at the campsite or in a boarding house. Such a unique price was only possible because different sponsors could be found. For example dinners for the entire group were sponsored by the mayor of Olargues or the Regional Natural Park du Haut Languedoc.
One highlight was, when Philippe declared the principle of 'free beer' and 'free wine' for the Olargues meeting. He paid out of his pocket for about 500 liters of beer, which flowed from the barrels there and Jean-Philippe Ferrara sponsored the red, rosé and white wine, which was inexhaustably available. Such a thing strongly influenced the atmosphere of "sharing" a wonderful experience.
Officially, the meeting lasted from Monday 15 until Saturday 20 August 2011. Those who stopped in to see, the reception was registered first, then you got your name tag. There were three categories: photographer, assistant, organizer. Incredibly many countries were represented: France, of course, but not dominant, Spain, Italy, Switzerland, a very large German group, Slovenia, Hungary, Poland, Great Britain, Romania, and then the ones from other continents: Canada, USA and Japan! Yes, even from Tokyo came two young Japanese who flew in and enriched camp life.
Particularly important was the inclusion in the large list of field trip requests. The very special tours were immediately fully booked, but there was a very vast range of alternatives. For many participants the choice was too vast and he/she had a rest for a day or two, which was quite understandable, because many of the caves were very challenging and exhausting.
The social highlight was the daily dinner. We were in a southern country, and there is very rarely something to eat before 8 p.m.. It was the same here, too. Once the plan fell completely out of hand, because the chef was the leader of one of the hardest caving trips of this day. The party came back safe but very late. It was already 10 p.m., when the first hungry persons could eat the sea food cooked in olive oil with garlic and pastis. If you didn't want to wait so long, you could go to the small pizzeria in town, which was operated by an amber haired artist.
The dinners were great. The range was from mixed hot and cold plates to a paella evening, a couscous evening and, and, and... There was everything. The beer and the wine flowed, the weather gods sent down only on Sunday evening a few showers, otherwise we always sat at long tables, but in a crowd of like-minded beings. "Breaking the ice", which went pretty fast, you came to know the other cavers quickly on the cave tours during the day. There were even some very prominent ones among us: Jean-Marie Chauvet, who discovered the famous Chauvet Cave, Michel Siffre has become well-known with his long stays in caves in cooperation with NASA, or Laurence Tanguille, the current President of the French Speleological Federation FFS.
After the meals there was still some time before going to bed and there were even photographs shown. Stephan Lang began the Monday evening session with a series of images from Sardinia, thus setting the highest level immediately. With the 6x6 format of his photographs, he is like me in the absolute minority. Today there seems to be almost only digital photography. Satoshi Goto from Tokyo went on and showed us Japanese karst and caves. That was certainly new territory for us all. In the end there was still a time slot until midnight, which I filled with a trip around the world with 6x6 photos from the underworld. We were exhausted, we had had a long day behind us filled with cave trip, and there was only a short night in front of us. We had to get up at 7 o'clock, because at 7.30 o'clock there was breakfast, at 8:30 we would be heading for the next cave.
So it went on day after day through the week and everyone had different experiences. In the evening we met again, ate together and then looked at slides, for example Philippe Crochet's dream shows of diaporamas of the world of caves. They were, fortunately, this time with English subtitles, so that even as a non-Frenchman you were able to understand a little bit more. There were further slide shows, among others, Dave Bunnell of naked feminine beauty in a sea cave in the United States, Cris Howes' remarks on the history of cave photography. And more others presented photographs from their home country or from expeditions to exotic areas (Roberto Garcia, Peter Gedei, Kasia Biernacka and Marcin Gala, Alex Bengel, Vittorio Crobu, Ovidiu Guja, Gaspard Magarinos).

Languages: It was well planned, or course, a little tedious, but important for a smooth flow. There was always an evening briefing where the latest information was presented in five languages: French, Italian, Spanish, Enlish and German.

There are many different ways of taking photographs in caves. A rough classification is possible in terms of the number of participants. There was the loner shot his pictures alone. Some had the full equipment with them, and they were able to put into practice even the most complicated ideas without outside help. Then there were the typical couples, usually wife or girlfriend and the photographer. This person is usually very well trained and does everything at once, what is required of her. "You are the boss." This classic sentence was actually spoken amidst splendid straws. And then there is the perfect cave photography team, 4 to 5 persons who obey to every spoken word and never grumble whatever the photographers wants from them. The Slovenes and the Spaniards are of this type.
On the technical side, there was also something to be discovered. How do they do that? If you look behind the "secrets" of the "tricksters", you often see very straightforward things. There are tripods standing on one foot and very useful for a back flash. This explains many of the special effects on contemporary cave photographs that might otherwise not be explained. And one short piece of plastic sewer pipe creates wonderful concentrated flash variations on photographs of Philippe Crochet.
After 5 days full of cave tours the plan for Saturday was completely different: In the morning there was a general meeting of the interested photographers, which lasted several hours. Everybody could present something, his great and his small ideas, his tricks of the trade. The lecture of Urs Widmer was especially impressive. He had a long-term experience in dealing with the cave photos which he used for his Speleo Projects calendars. The before-and-after-photoshop-comparisons were simply fantastic.
For the afternoon every photographer was invited to have his picture taken by Philippe and to present two pictures which had been taken during the days in Olargues which should be shown at the Gala in the evening. Moreover, Annie prepared a personal cv of every photographer which was translated then by her into French and by somebody elso into English. Every photographer had to explain during the gala with few words before the whole audience, why he had selected just these pictures. These details show extremely good, how carefully Phillip and Annie had prepared everything. Such a great success really does not fall from the sky, as we say in Germany. Another person is to be mentioned here. Bernd Kliebhan wanted to take a film of the whole event with the meanest lighting equipment during the week and to produce a high-quality product. Step by step he worked his way through the material and it took him many hours, he even found suitable music, and, in the end, then he presented again a small masterpiece, which one can see now still on the Internet, not in Germany, because of the music!
The "Gymnase" filled up to the edge at dusk. In the end there were only standing places for the ones who came too late. Along the walls was an exhibition with excellent cave photographs.
The mayor delivered a speech, honoured Urs Widmer for his achievements, the guests from Japan also got guest presents from him. Well deserved thanks were given to the organizers publicly, then the show began. In alphabetical order we were introduced, the photographers, what an honour! Everything was exciting. To see all the colleagues and friends hugely enlarged and very well photographed, almost better to look at than in reality, some of them at least. Another surprise was to see the two selected photographs of each photographer. More than thirty persons had taken thousands of new photographs. Which one had they chosen? Hundreds of possibilities – and only two selected. Some were absolutely perfect.
There were a lot of different things to see: Some had gone into very difficult caves and had actually brought out extremely fine photos, others had been in very well sealed caves, and brought out something that was not that exciting. The grotte de l'Ascension had been obviously the favorite among the photographers, because there was no other cave so often presented as this one. After the slide show Bernd Kliebhan presented his video of the cave photographers meeting, which was very much applauded afterwards. He knows all the tricks of the trade, knows how to develop and incorporate characters like the "Spaniards", "Michael", which shows people how they want something, then fail, often proceed anyway, go on, fail again and get at some point often what they had originally wanted. The most exciting scenes show 95 % blackness and a little light, but the effect comes only through the sound! The audience already spoke the Spanish words, as the scene, as usual, repeated. The word "shit" also fell once and it has therefore even dug a little bit deeper into the memory of non-German speaking persons. A Spaniard, Carlos Sanchez, showed his version of a film about the photographers meeting and showed completely different sides of the meeting, because most of the scenes played only in the Camp Hotel.
During the second part of the evening 3-D projections of the La Salle Group were shown. Top cave photographers have joined from all over the world under this brand mark to capture on the highest level the beauties of the earth's subsurface in perfect images and present the results in the overwhelming stereo photographic technique.

La Salle is actually the name of a hamlet in the area, almost hidden under the skyrocketing vegetation on the mountains nearby. The Cave Club of Beziers takes care of the premises, there is a kind of club house, which provides a roof over your head for researchers and photographers.
You put white stereo glasses on your nose and when your eyesight adapts, then grandiose visual impressions emerge at once in your mind. Suddenly I saw pictures from home, from ice caves, the Eiskogelhöhle or the Eiskapelle at the Königssee. Then came an incredible 3-D-slide show with colourful crystals from the mines in Alsace, unbelievable! Yes. And more...
After such an overabundance of beauty only asceticism helps. No more caves, no more cave pictures, only flowers, clouds, looking over the Mediterraneau sea, looking at the stars.
"Beauty is in the eye of the beholder."
Literatur:
| | |
| --- | --- |
| ohne Verfasserangabe | Première Rencontre Internationale des Photographes du Monde souterrain, Olargues 2011 |
| Cris Howes | The Caves of the Haut-Languedoc, DESCENT (223) DEC/JAN 2011/2012, S. 20ff. |
| Bunnell, Dave | The First International Meeting of Cave Photographers-Olargues, France, August 2011, NSS NEWS December 2011 Volume 69 Number 12, p 12-19 |
| Guiraud, Anni, Crochet, Philippe | Genesis, DESCENT (223) DEC/JAN 2011/2012, S. 22 |
| Crochet, Philippe, Renda, Michel | Premières Rencontres Internationales des Photographes Du Monde Souterrain, Olargues 2011, Edizioni Stimmgraf 2012 |
Links:
---
---